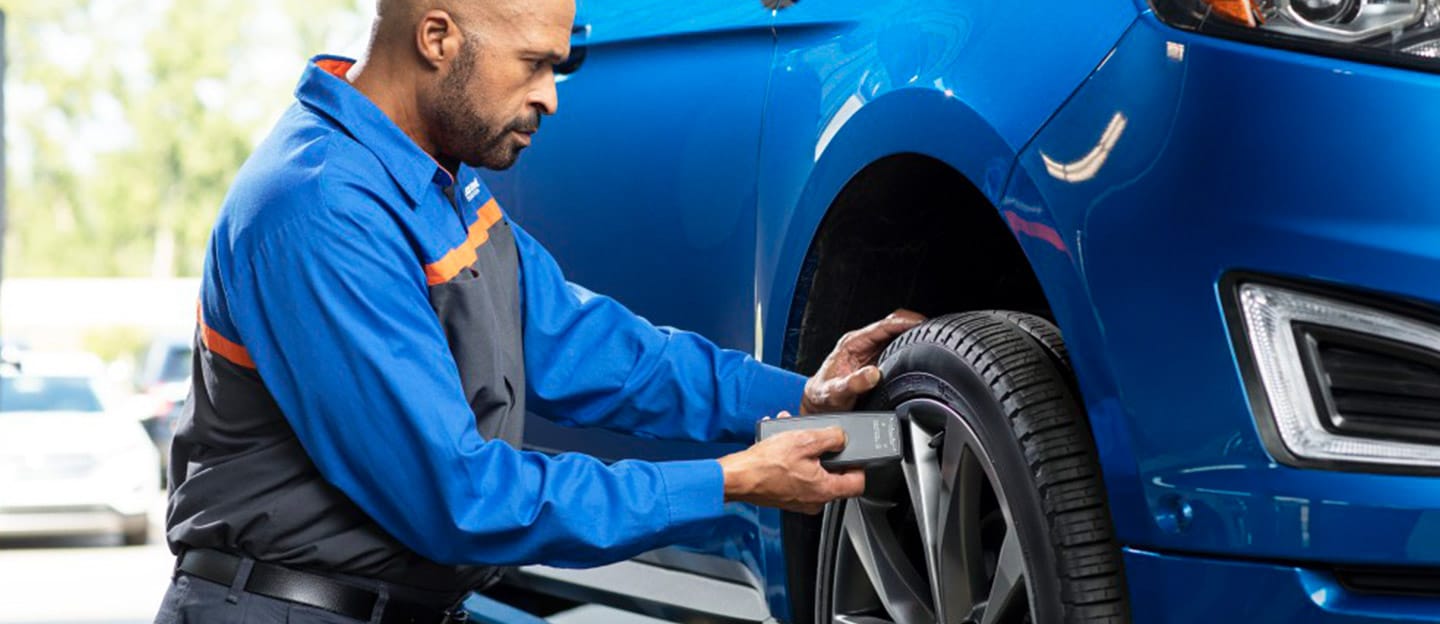 In a Hurry But Need Auto Service? Our Quick Lane Can Help at Jorgensen Ford!
We know that scheduling time out of your day to bring your vehicle to a repair center like ours in Detroit and near Ecorse, River Rouge and Dearborn is something you want to be able to do conveniently, and with a quick turnaround time. For all your basic repair needs, we have our Quick Lane service, which offers routine maintenance on Ford vehicles and all makes and models for basic needs that can have you in and our within an hour's time while keeping your vehicle's overall health and longevity high as well!
What Type of Services Do We Offer via Quick Lane?
You're going to find a number of basic and routine services are covered under Quick Lane, so you can get in and out on your time and back on the road with a vehicle you know is performing at its best. These services include:
Heating and cooling checks
Lights and bulb replacement
Wheel alignments
Brakes, hoses, electrical system and more
Why Use Quick Lane for Your Auto Service Near Detroit?
Our service is simple and easy. You can lock in an appointment for a routine service that won't take long, while we also can take in others with no appointment necessary, but the time may vary based on our schedule for the day. But, we use the right tools and have a team of people here that can ensure you're getting the right care you need for your vehicle as we tend to its basic needs and ensure you can head back out on the road and continue to enjoy your reliable ride for many miles to come.
Our Service Center Meets All Your Needs
Not only are you going to find Quick Lane Service from Jorgensen Ford, but we also are here to provide the highest level of customer satisfaction too. We have a team of trained specialists who know all the inner workings of Ford vehicles, and use the right tools, technology, parts and equipment for repairs and maintenance so you get back your vehicle as it keeps the highest levels of integrity. For complex vehicle issues that require more care, we are here to ensure that you get it, as we'll diagnose and put together a plan to fix your vehicle, as we'll find the noise or sounds it's making, figure out why it's not performing as it should, work on it, and get it back to you.
We're committed to helping those in the Detroit area get all the service they need, be it Quick Lane service for simple repairs, and all else in between. If you're ready to get started, contact us today and we can assist you!
Quick Lane

---
Monday

9:00am - 6:00pm

Tuesday

9:00am - 6:00pm

Wednesday

9:00am - 6:00pm

Thursday

9:00am - 6:00pm

Friday

9:00am - 6:00pm

Saturday

Closed

Sunday

Closed